James Henry "Jim" Healy was the 2d child in his family to be born in the United States after the family came over from Ireland. He was born September 27, 1868, in Faribault, Minnesota, where his parents, Patrick Healy and Mary Hope settled with their four children after leaving Addergoole Parish in County Mayo, Ireland, in 1866. Jim and his younger brother, John Anthony Healy, formed the Healy Plumbing and Heating Company in 1906 in St. Paul, Minnesota.

Lucy Gertrude Miller was born in a log cabin in Birtle, Manitoba, about 200 miles from Winnipeg. Her parents, Annie Bayley and Charles Miller had left England with their oldest child, Nina, about 1882, to settle near Charles' uncle, Benjamin Miller. Lucy was the fourth child in the family, born 11 February 1887. By 1890 the family had moved to Pittsburgh, Pennsylvania, where Annie's two brothers lived. After Lucy's sister Ethel was badly burned, the family moved back to England about 1897 and remained there for ten years. In 1907, Lucy and her family returned to the United States, settling in Cheyenne, Wyoming, where her father got a job as a bookkeeper.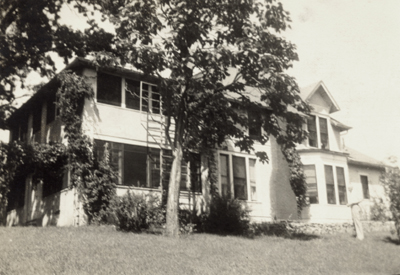 In 1908, Jim was out in Cheyenne, Wyoming, overseeing the installation of the plumbing and heating of Fort Russell (now Warren Air Force Base). There he met Lucy, and six weeks later they became engaged. Lucy was just 21 and Jim was 41 when they married in St. Mary's Catholic Cathedral in Cheyenne on 21 January 1909. Within a couple years Jim and Lucy settled in St. Paul. They raised five children in St. Paul and later in Mahtomedi on White Bear Lake: Dorothy, James, Charles, Audrey and Hope.






The Healy Family home in Mahtomedi on White Bear Lake