Zephaniah Phillips and Mary E. Pierce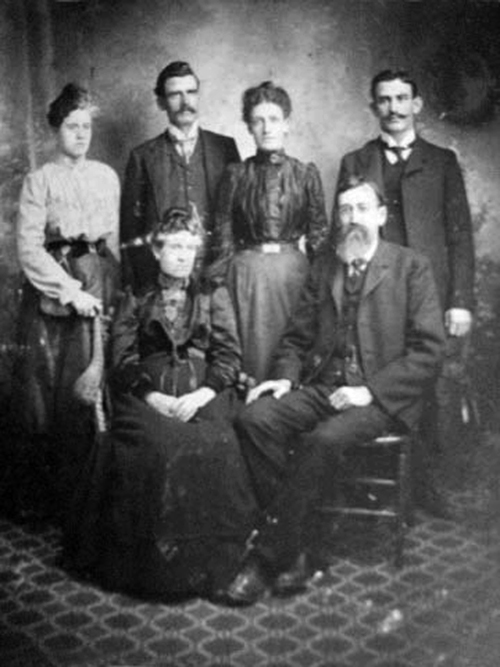 Zephaniah Phillips was born in Toronto, Canada, on 2 March 1837.1 According to the 1900 census, his mother was Canadian.2 His father was George W. Phillips, born, according to Zephaniah,3 in Massachusetts, and, according to George himself,4 in Rhode Island. When he was two years old, the family moved to Illinois.5
Zephaniah is listed in the 1860 census for Equality, Gallatin County, Illinois6 under his father, George Phillips and his father's wife, Catherine Molsbee Wallace.7 Zephaniah is 23 years old at the time of the census and no occupation is listed.
On June 25, 1861 he joined the Union forces in the Civil War.8 On 2 October 1862 he married Mary E. Pierce, daughter of Jarvis Pierce and Elewisa A.R. Hubbard, in Harrisburg, Illinois.9
In May 1870, living in Dixon, Lee County, Illinois, Zephaniah applied for a patent for his beech jointer plane. That summer of 1870 Zephaniah was still in Dixon, in northern Illinois, with his wife and two children, Anna and Zephaniah when the 1870 census was taken.10 A third child, Julia, was born in September 1870, most likely in Dixon.11 In September 1876, in Bridgeport, Belmont County, Ohio, Zephaniah applied for another patent, this time for an improvement to a time-lock safe. The patent was granted about a month later. About this time two more children were born, Clarence Eugene, in 1875 in Ohio, and Ida May, in 1880 in Wheeling, West Virginia.12 Ida May died when she was three months old in Wheeling and was buried there. 13
In May, 1879, Zephaniah filled out Pension Declaration papers in Wheeling, West Virginia, although his residence at the time, according to his paperwork, was Bridgeport, Belmont County, Ohio.14 In 1880 the family was in Wheeling, West Virginia, for the census that summer and when Mary's father, Jarvis Pierce Jr., died in July 1880.15
In 1882, the family moved to Florida,16 first to Waldo,17 and then, by 1884, to Hillsborough County18 where Zephaniah installed saw mill machinery for George L. King. The family homesteaded on the barrier island of Long Key, just west of St. Petersburg. In 1886 Zephaniah built the first home in Pass-a-Grille (at the southern end of Long Key). Zephaniah and his sons, Zephaniah Jr. and Clarence, built a boat, the Silver Moon, which they used to bring lumber over from the mainland to the barrier island for building the house. The home, with some modifications, is still lived in 2004.19
In the census records, in the county history, and in his pension applications Zephaniah is listed as an inventor, mechanic, wagon or carriage maker, cabinet maker, and real estate agent. In the county history, he is said to have started a grocery store in Harrisburg after the Civil War. Also, when he was young, he learned and practiced the blacksmith trade. He invented many items, and secured many patents, including the Phillips Burglar Proof time safe.
By 1891 Zephaniah and Mary had moved to St. Petersburg where Zephaniah died on 21 January 1903 from chronic Bright's Disease; he was 65.20 Zephaniah was buried in Greenwood Cemetery (now called Roser Park Cemetery).21 In 1920 Mary was living with her daughter, Anna, on 2d Avenue So.22 Mary died 16 January 1929 from chronic myocarditis.23 According to her death certificate, her age was 84,24 and she was buried in Greenwood Cemetery.25
In his 21 November 1851 discharge from Capt. James B. Foster's 1st Regiment of Illinois Cavalry in Springfield, Illinois: "Said Zepheniah Phillips was born in Lincoln, Canada, is 24 years of age, 6' high, dark complexion, grey eyes, black hair, and by occupation when enrolled a carriage maker."26


Related Links
Main page for Capt. Zephaniah Phillips, with links
The Phillips Family
Gravestone of Zephaniah Phillips, Greenwood Cemetery
Children of Zephaniah Phillips and Mary E. Pierce
Biographical Sketch of Jarvis Pierce Jr., father of Mary Pierce


---
Photograph above is of The Zephaniah Phillips family. Sitting: Mary Pierce Phillips, daughter of Jarvis Pierce, Jr. and Elewisa A.R. Hubbard; and Zephaniah Phillips, son of George W. Phillips; standing, L-R: Note on photograph says Flora, but this may be Anna Phillips, the oldest child; Zephaniah Jr.; Julia Jeanettie; and Clarence Phillips.
Copy of photograph from Dixie Phillips Pernell, great granddaughter of Zephaniah and Mary Pierce Phillips and the granddaughter of Zephaniah Jr.