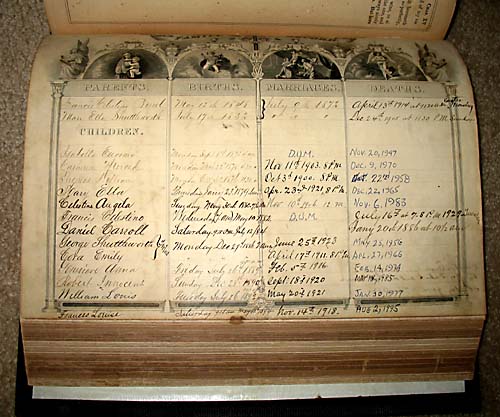 A page from Mary Ella Brent's family Bible



HE PENSACOLA BRANCH OF THE BRENT FAMILY descends from Captain George Brent (ca.1640-1699), who was born in England and died at his Woodstock plantation in Stafford County, Virginia. He was the first child of George Brent (1602-1671) and Marianna Peyton of Defford, Worcestershire, England, and the grandchild of Sir Richard Brent (1573-1652) and Elizabeth Reed (d.1637) of Lark Stoke and Admington in England. Richard and Elizabeth had thirteen children, four of whom left for Maryland in 1638 – Fulke (or Foulke), Giles (or Gyles), Margaret and Mary. Some other family members followed later.

Fulke (d.1656) returned to England within a few years. Giles (ca.1600-1671) and Margaret (c.1601-1671) played prominent roles in the early history of Maryland, Giles holding numerous public offices and Margaret serving as the executrix of Leonard Calvert's estate. Giles, Margaret and Mary were all large landholders. Giles moved across to the Northern Neck of Virginia in the mid 1640s, settling in the area now known as Brent Point, on the northern side of Aquia Creek where it meets the Potomac River. Margaret and Mary followed about 1850, living at Peace plantation while Giles lived at Retirement.

Captain George Brent, son of George and Marianna, was in Virginia by 1670 and possibly earlier. He was sent to his Uncle Giles in Virginia to "learn how to live." He obviously learned well. George married Elizabeth Green (1654-1686), daughter of Captain Green of Bermuda, about 1670. He built his home on the west side of Aquia Creek and called it Woodstock. Through his lifetime he acquired huge tracts of land in the Virginia Colony and served in various governmental positions. He and his brother Robert (1660-1695/96), who came later to Virginia, were both prominent lawyers in northern Virginia.

George and Elizabeth had five children, George, Nicholas, Robert, Marianna and Elizabeth. Elizabeth died in childbirth in 1686 and in 1687 George married Mary Sewell, widow of Col. William Chandler. Three of George and Mary's children survived: Henry, Mary and Martha. Mary died in childbirth with Martha in 1693/94.

George Brent died in 1699 and is buried in the old Aquia cemetery which is located near the spot where the first Woodstock home was built. His wives, Elizabeth and Mary, are buried on either side of him.

The Brents were a Catholic family living in the Virginia Colony which had laws on the books to make life difficult for Catholics and penalizing them in various ways. There was much resentment against Catholics at the time. Apparently, through their public service, the good will of their neighbors, and by keeping their religion private, laws were not enforced against them and they were able to prosper.

George and Elizabeth's oldest son and heir, George, died in 1700, a year after his father, unmarried. Nicholas Brent, the second son, married and died the same year, 1711. Robert, the third son, went to Bermuda in 1701 to settle some estate matters of his mother's half-brother, William Green. While there, in 1702, he married Susannah Seymour (d.1778), daughter of Captain Daniel Seymour, and returned with her to Virginia. On the death of his brother Nicholas, Robert, the third son, inherited Woodstock.

Unfortunately, Robert died about ten years after his brother Nicholas, in 1720/21. He and Susannah, who died in 1778, are most likely buried in the Brent cemetery at Woodstock in Aquia, Virginia. Robert and Susannah's oldest son, George (1703-1778), inherited Woodstock. George also married a girl from a prominent Bermuda family, Catherine Trimingham (d.1751).

George and Catherine's oldest son, Robert (d.1780) married Ann Carroll (1733-1804), daughter of Daniel Carroll and Eleanor Darnall of Upper Marlborough, Maryland, and sister of John Carroll, the first Catholic Archbishop in the United States and the founder of Georgetown College, now Georgetown University. Another brother was Daniel Carroll of Rock Creek who was a member of the Constitutional Convention and a signer of the Constitution.

Robert and Ann Carroll Brent had eight children, one of whom, Robert Brent, was the first mayor of Washington D.C. Their oldest son, George, in 1791, sold the sandstone quarry that had been in the Brent family since about 1650 to Pierre L'Enfant to quarry Aquia freestone for the public buildings, including the White House and the Capitol, in Washington City, then under development.

Their youngest child was Col. William Brent (1775-1848) who married twice, first to Catherine Walker Johnson, and after Catherine died in 1822, to Elizabeth Neale, and had children by both wives. Robert and Ann Carroll Brent's grandson, Robert Carroll Brent, sold Woodstock in 1832. There is nothing remaining of the Woodstock estate, which also included the town of Woodstock, except for the Brent family cemetery, just off Route 1. Although heavily vandalized during the Civil War, the cemetery is still there.

William and Catherine's oldest child, Thomas William Brent (1803-1875) became an officer in the U.S. Navy and married into a prominent and long established Pensacola family. His wife, Merced Gonzalez (1824-1919), was the daughter of Col. Celestino Gonzales (c.1795-1844) and Pauline Graupera (1800-1896). All the Pensacola Brents descend from Thomas and Merced Brent.




---
The Brent Family Bible belonged to Mary Ella Brent, wife of Francis Celestino Brent, son of Thomas and Merced Brent of Pensacola. The page above shows the births, marriages and death dates of her children. The Bible is in the possession of one of the Pensacola Brent descendents.
The photograph was taken by Anne Field, May 2007.

The sources for the ancestry of the Pensacola Brents can be found in the eight-generation Descent Chart of Richard Brent, d.1652, and Elizabeth Reed, d.1637, which goes down eleven generations.

The two main sources for my research on the early Brents are Chester Horton Brent's "Descendants of Coll Giles Brent, Captain George Brent and Robert Brent, Gentlemen, Immigrants to Maryland and Virginia." Rutland, Vermont, Tuttle Publishing Co., 1946; and David M. French's "The Brent Family, The Carroll Families of Colonial Maryland." Alexandria, VA, David M. French, 1981. In compiling their work, these two men have used family genealogies, notes and records which were started in 1740 by George Brent, d.1778, son of Robert Brent and Susannah Seymour, and carried on by some of his descendants: Daniel Carroll Brent, d.1841, son of Robert Brent and Ann Carroll; John Carroll Brent, d.1876, son of Col. William Brent; General George Douglas Ramsay, a greatgrandson of George Brent, d.1778; and William Brent Chilton, b.1856, grandson of Col. William Brent.
---