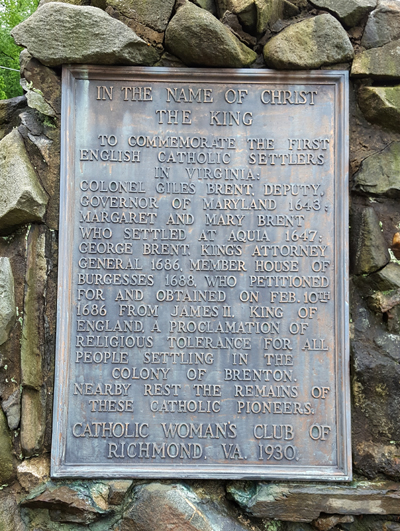 Just to the east of Interstate 95, going north along the parallel U.S. Route 1, north of Stafford, Virginia, travelers enroute north pass by St. William of York Catholic Church and then cross over Aquia Creek which eventually empties into the Potomac River. Just pass the creek there is a large crucifix and a historical marker noting the First Roman Catholic Settlement in Virginia. The marker commemorates the plantations of Peace and Retirement, belonging to two sisters, Margaret and Mary Brent, and their brother Giles as well as the Woodstock plantation belonging to their nephew George Brent.

The Brents, a Catholic family from Gloucestershire in England, came first to Maryland in the mid 1600s. They acquired extensive landholdings in Maryland and later in Virginia. George Brent and his brother Robert, practiced in that area of Virginia. Though Catholics were not looked upon with favor in Maryland and Virginia at that time, George and Robert were well-known and respected members of their community.

Just east of the crucifix and sign, on what was Woodstock land, the remains of the family cemetery can be found. For a long time the cemetery suffered from disrepair and vandalism. More recently, the cemetery has been taken on as a project by the Knights of Columbus and other groups who are working to restore it. The area has been cleared of overgrown brush and restored. Surrounded by tall fences behind a gated road, the cemetery is not open to the public. Only a few gravestones remain and the four main gravestones are those of Capt. George Brent, 1640-1699, his two wives, Elizabeth Green Brent, ca. 1654-1686, and Mary Sewell Brent, ca. 1658-1694, and his brother Robert Brent, 1660-1696.


Volunteers and archaeologists from several groups such as the Brent Family Cemetery Committee, the Stafford County Cemetery Committee, the Catholic Woman's Club and the Arlington Catholic Diocese, are making an effort to identify other family members who might be buried here, possibly Margaret and her sister Mary, Giles, their brother, and many other descendants of George and his two wives. It is now thought that Giles might have established the cemetery early on as records show that he owned the tract of land on which the cemetery lies as early as 1654. Giles may have buried family members here many years before George and his family were buried here. An archeological survey will be conducted in the near future in an attempt to locate all the unmarked graves in the cemetery.