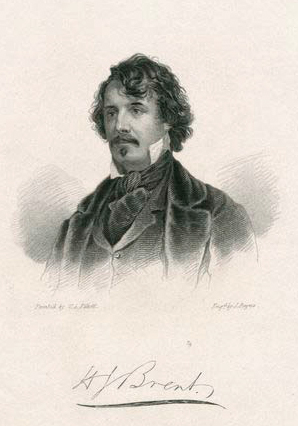 Henry Johnson Brent was the second child of Col. William Brent and Catherine Walker Johnson of Washington, D.C. His older brother was Thomas William Brent, my ancestor. One of his uncles was Robert Brent, the first mayor of Washington, D.C., and another uncle was Daniel Carroll Brent who served as the Chief Clerk at the State Department and as U.S. Consul in Paris.
Henry Johnson Brent was a writer and artist, an editor and co-founder, with Lewis Gaylord Clark, of the Knickerbocker Magazine. He published a novel, "Life Almost Alone," in 1859, and "Was It a Ghost?" in 1878 - an book about the murders of the Joyce children in Bussey Woods in Boston. He was a contributor to Porter's Spirit of the Times under the signature "Stirrup."


Henry was married first to Elizabeth Carroll, on 7 Jan 1834 in Washington, D.C. Elizabeth was the daughter of Daniel Carroll of Duddington and Anne Boyce. Elizabeth died in Paris in 1846 and is buried there in P&egravere Lachaise Cemetery next to her husband's uncle Daniel Carroll Brent. The couple had four children, Catherine Douglas, Henry May, Henry Boyce and William Carroll. After Elizabeth's death, Henry married Wealthy (or Wealtha) Backus, daughter of Dr. Frederick Fanning Backus and his wife Rebecca Ann Fitzhugh. Henry and his second wife had one child, Claude, who died when he was just eighteen.

Wealtha died in December 1879 and Henry died several months later in August 1880 in New York City. Henry Johnson Brent is buried in the Calvary Cemetery, Queens County, New York.


---
Portrait of H.J. Brent is from the Digital Collection at the New York Public Library, Digital I.D. #1124480. According to the Reference Staff at the Library, the artist/engraver was John Rogers and the printer was Charles Loring Elliott. The portrait was included in a collection of engraved portraits known as the Knickerbocker Gallery which was printed also in the Knickerbocker Magazine in 1857.

The landscape painting is a copy of a photograph of an original painting by Henry Johnson Brent. Used with permission of Garth's Auctions, Inc., in Delaware, Ohio: www.garths.com.
---