My Pierce ancestry goes back to Massachusetts through many lines and the Conant family is one of the early ones. The first of our Conant ancestors in America, Roger Conant, came from England in 1623 to Plymouth, Massachusetts. Several generations of the family lived in Essex County, Massachusetts. Deborah Conant, great granddaughter of Roger, married John Darby. John and Deborahís great granddaughter, Rhoda Darby, married Jarvis Peirce, both of them descendants of John Pers, the first of our Peirce/Pierce line in America.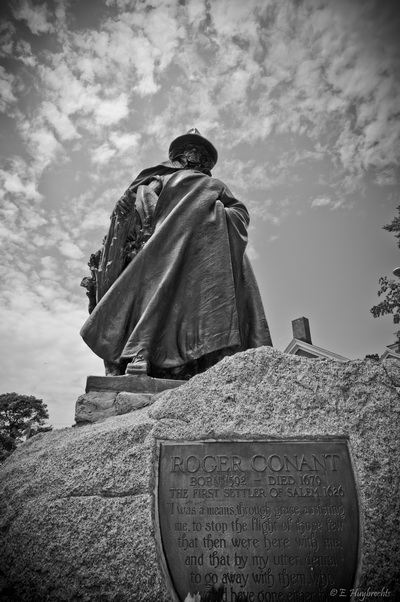 Roger Conant, ca. 1592-1679

Roger Conant, born about 1592 in Devonshire, England, was the son of Richard Conant and Agnes Clarke, the last of their eight children. He married Sarah Horton in London a few years before sailing for Plymouth. Roger was a Puritan but the Puritans in Plymouth were a bit too strict for Roger and others who had sailed with him and his family on the ship Anne. So Roger and others moved first to Nantasket, then to the area of Cape Ann and then to Salem in 1626 where Roger founded the town of Salem.

Roger and Sarah had nine children. Roger outlived Sarah and five of their children. He wrote his will in 1677, noting that he was about eighty-five years old. He died two years later, in 1679.

Despite his statue standing next to the Salem Witch Museum, Roger had nothing to do with the Salem witch trials. They took place after his death.

Roger and Sarahís son Lot, 1624-1674, married Elizabeth Walton, also born in Devonshire, the daughter of Reverend William Walton and Elizabeth Cooke. Elizabeth sailed with her parents sometime around 1634 to America. William Walton was the first minister of Marblehead, Massachusetts.

Elizabeth and Lot settled in Beverly, Massachusetts, and had ten children. Lot died in 1674 when he was only about fifty years old. His widow, Elizabeth, several years after his death, married Andrew Mansfield, the father of her son Johnís wife, Bethiah Mansfield. Andrew was also widowed, his wife having died a couple years before Lot.

John and Bethiah were born and died in Beverly and had ten children there. Their daughter Deborah, the fifth child, married John Darby probably about 1703. Deborah and John were the great grandparents of Rhoda Darby who married Jarvis Peirce Sr. in 1794.



Related Links
5-generation descent report for Richard Conant through Deborah Conant, wife of John Darby
Ancestry of Deborah Conant
Descent report for Robert Mansfield, Bethiah Mansfield's grandfather
Jarvis Peirce Sr. & his wife, Rhoda Darby, great granddaughter of Deborah Conant
The Pierce/Peirce family


---
Roger Conant Statue in Salem, Massachusetts. Photo by Emmanuel Huybrechts from Laval, Canada, 27 June 2010, and licensed under the Creative Commons Attribution 2.0 Generic license.
---