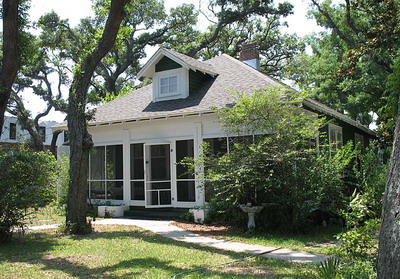 "Little Whitecap," Pensacola, Florida
---
"Little Whitecap", the cottage which belonged to George O. Brosnaham, is located in East Pensacola Heights on a bluff overlooking Pensacola Bay. It was moved to this spot in 1918 using horse power and rolling logs. At that time, the old Brosnaham home - the original "Whitecap" - stood next door. "Little Whitecap" was preserved over the years by Dr. George O.'s daughter, Maybelle Brosnaham. In 1983 the cottage was restored by Dr. George O.'s granddaughter, Cynthia Brosnahan Richardson. It is now occupied by a Brosnaham descendant.

Cynthia Brosnahan Richardson did a lot of research on the Brosnaham family and generously shared her findings with me. According to Cynthia, our Brosnaham ancestor, Andrew Brosnahan, came from Ireland where the name was probably spelled O'Brosnahan or O'Brosnaghan. In various censuses and other records the name was spelled or transcribed as Brasingham, Brushingham, Bruschenham. In Spanish Florida, John Brosnaham became Juan Brosnaharn. The spelling of the name was changed to Brosnaham over the years with little attempt to correct the spelling. Both John Brosnaham Sr. and George O. Brosnaham Sr. have the correct spelling on their gravestones, but they were known in Pensacola by the "Brosnaham" spelling. Cynthia said that her grandfather regretted that the name had changed and asked her to please use the correct spelling of the name. Sadly, Cynthia died in 1987. I have used the name with both spellings, reflecting the fact that the name was spelled both ways, both in New York and in Pensacola, and some family members had no desire to change their name back to Brosnahan and used the Brosnaham spelling for most or all of their lives.

Cynthia also wrote that Andrew's "handwritten passport - according to family members - states he was 'a carpenter, poor, but honest from County Cork." This conflicts with another descendant, Mary Maguire, who stated in 2008 that Andrew came from county Tyrone in Ireland. Her grandfather, Frank Gale Renshaw, went with his grandfather, John Brosnaham, up to Catskill. John showed him the creek where Andrew used to fish, and told him that Andrew came from County Tyrone. A 1934 Pensacola Journal article noted that his passport showed that he sailed from the port of Cork, not that he was from Cork. Cobh, the port city in Cork, was where many left Ireland to sail for America. Andrew himselt, in the notice of his upcoming trip in August 1797, states that his native country is Ireland, he just doesn't say where in Ireland he was from.


Related Links
Andrew Brosnahan, ca. 1758-1833
John Brosnaham, 1791-1870
Children of John Brosnaham and Maria Josefa Martinez
Children of John Brosnaham and Isabella Sierra
Descendants of Andrew Brosnahan and Margaret Rim
Family tree showing some of the descendants of Andrew Brosnaham through Mary Ella Shuttleworth Brent
---

Photograph taken by Anne Field, May 2007


---