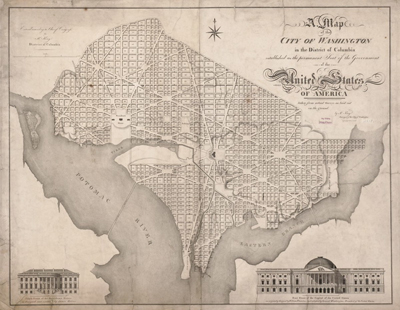 Washington D.C., 1818


Thomas married Catharine Rhoda Dimmick about 1775, probably in Maryland, and they had four children: Ann (or possibly Mary Ann) Johnson, who married John Gun McDonald; Catherine Walker Johnson, who married Col. William Brent; Mary Catherine Johnson, who married Samuel Eliot Jr., and Dr. Richmond Johnson, who married first Louisa Balmain and then her sister Margaret. Nothing is known about Catharine's ancestry.9

Thomas apparently did not leave a will as his estate went through probate. His wife, Catharine, refused administration of the estate, wishing John Davidson and James Cook to administer instead. Settling of the estate took several years. An inventory of the estate, which ran several pages, showed Catharine buying most of the items when the estate sale was held.10

Thomas's place of burial is unknown, as is Catharine's. There is a file card for a probate record for a Catherine Johnson in November 1805 but whether this is Thomas's wife is unknown.
---
The page from Thomas Johnson Jr.'s inventory and the refusal of administration of his estate by Catharine, his widow, were provided by researcher Liz Hunt Vanderham. Catharine's refusal can also be found at FamilySearch.org, MF14279, image 527, Prince George's County, Maryland, Orphan's Court, Maryland Hall of Records, Annapolis, Liber T, no. 1, 1770-1808.

A map of the city of Washington in the District of Columbia, 1818, was published by W. Cooper, 1818, and accessed at the Library of Congress: http://hdl.loc.gov/loc.gmd/g3850.ct006189r.11
---
Note: Much of the information for this family is not fully sourced and for many of names and dates there is conflicting information for which there seems to be no good proof yet.
Dorca's name is sometimes spelled Sedgwick or Sedgewick, but the correct spelling is said to be Sedwick. Another branch of the family spelled it Sedgwick.

Governor Thomas Johnson did have a son named Thomas Jennings Johnson, born in 1766, but he died in 1835.

Daniel Carroll II was the uncle of Col. William Brent, who married Thomas Johnson Jr.'s daughter, Catherine Walker Johnson in 1805. Daniel Carroll II was the brother of Ann Carroll, Col. William Brent's mother.

"DAR Records from Lewellen Eliot, M.D., in Supporting Documentation of Ella Baker Johnson (M332983) on Benjamin Johnson (A063019)," joined May 1942; National Society Daughters of the American Revolution, Genealogical Research System accessed November 20, 2017 DAR Library, Washington, D.C. There are several records that give the dates of birth and death for Thomas Johnson Jr. Whether they originally came from a family Bible or church records or another source is unknown. Some of the information conflicts with other sources and some has been proven wrong by various records.

The White House & President's Park: Administrative History, 1791-1983, Epilogue, 1983-1997, National Park Service, U.S. Dept. of the Interior, December 2001. https://irma.nps.gov/Datastore/DownloadFile/476724
"A History of the City Post-Office," by Madison Davis, Records of the Columbia Historical Society, vol. 6, 1903, p.143-147.

Postmasters by City, USPS website, Postmaster Finder, https://webpmt.usps.gov/pmt003.cfm, Thomas Johnson Jr., Postmaster, 06/24/1795 - 11/11/1795. The Post Office was originally established as part of Montgomery County, Maryland.

"DAR Records from Lewellen Eliot..."

Christopher Richmond has some kind of connection to the Johnson family, whether related by family or by friendship. The name Richmond goes down in the family for several generations. Perhaps Catharine Dimmick's mother's family name was Richmond. His signature appears in some of the probate papers for Thomas Johnson Jr. There is a lawsuit in the Chancery Court in Maryland involving Christopher Richmond and Thomas Monroe versus the children of Thomas Johnson Jr. Christopher Richmond did not last long in the post office job either. He died in 1796.

"Website: Find A Grave," http://www.findagrave.com/. Dates and other information from the memorials are not all taken from the gravestones, nor verified, Memorial 96742527: Burial site of Benjamin's mother, Dorcas Sedwick Johnson lists most of her children.

History of Frederick County, Maryland, Vol. 1, by Folger McKinsey & T.J.C. Williams, Genealogical Publishing Co., 1967, p.111.

"DAR Records from Lewellen Eliot..."

Some sources have named Catherine Bull as the wife of Benjamin and some show her as the wife of his son, Thomas Johnson Jr. I have yet to come across any proof of Thomas Johnson Jr.'s wife's full name. We only know her as Catherine. Benjamin's first wife was said to be the widow, Sarah Backus. Again, we don't really know her maiden name.

Several of Benjamin's siblings do have known burial sites and can be found on Find A Grave website.

DAR Records from Lewellen Eliot. There is no proof given for this marriage date and it seems a big strange that Thomas and Catherine would have married in 1775 when three of their four children were not born for another ten years or more. We don't know when Ann was born and there could have been miscarriages and children who died very young. Still.

When Thomas Johnson Jr. died in 1795 his children were young, Richmond being only about four years old, and Catherine only nine. I was unable to locate any records relating to guardianship of the children.

Probate records for Thomas Johnson Jr. were found by researcher Liz Hunt Vanderham and look to be in very fragile condition. There are lots of pages, including an inventory of the personal estate and the sale of the estate items, as well as account books of Thomas Johnson Jr. detailing what was paid to carpenters in 1795 and other items purchased and sold in the early 1790s. Because the City of Washington was not yet the District of Columbia when Thomas died, his probate papers are in the court records of Prince George's County, Maryland.

The City of Washington was not the District of Columbia as we know it now. Georgetown was not yet part of the District. The tiny arm of the Potomac River that goes east, on the middle left of the map, was the Tiber River which, as Tiber Creek, stretched through much of the District until it was made into a canal and later removed altogether. When Thomas lived there in the early to mid 1790s the area not far south of the White House, and from where Thomas had his house, was swampy, and probably very uncomfortable in the summer months.
---